Jade String Quartet
Playing an eclectic mix of music for string quartet ranging from Vivaldi to Hendrix, the Jade String Quartet have won a special place in Aotearoa's music scene. Founded in 2003, the Quartet has recorded a CD of New Zealand works (Parlour Games, 2017, RATTLE), toured twice with Arts on Tour (AOTNZ, 2007 & 2009) and once before with Chamber Music New Zealand in 2015. They also established their own concert series titled Jade at The Pah which ran for five years from 2012–2017.
MUSICIANS
Miranda Adams (violin)
William Hanfling (violin)
Robert Ashworth (viola)
Edith Salzmann (cello)
PROGRAMME
HAYDN | Seven Last Words (selections)
David HAMILTON | new commission
Peter ADAMS | Proclamations, Canons and Dances
SCHUBERT | Death and the Maiden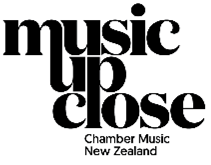 ACKNOWLEDGEMENT
This concert is presented in association with Chamber Music New Zealand (CMNZ). The CMNZ Regional Series is supported by The Deane Endowment Trust Artist Development Fund.

PATRONS OF THE MUSEUM
The CMNZ concerts are a new venture for the Musical Museum and have been made possible by the generous donation of Patrons of the Museum. If you would like to become a new Patron in 2021 please email us.