The Life of a Female Conductor | In conversation with Rita Paczian
Join us for an evening with one of New Zealand's foremost conductors, and hear about the challenges and rewards of her work. There will be the opportunity to ask questions and join in the conversation.
Rita Paczian, Music & Artistic Director
An exceptionally gifted conductor, Rita Paczian has earned a growing reputation world-wide for bringing an electrifying balance of musicality, intellect, technique and passion to her performances. She is extremely versatile, and her musical interests and professional experience embrace a repertoire spanning five centuries.
A native of Germany, she graduated Master of Music (with distinction) in conducting, organ, harpsichord and singing at Dortmund and Lübeck universities, her tutors including Martin Haselböck and Helmuth Rilling. Recognized in Germany as one of the outstanding young conductors of her generation, she was one of four conductors selected to participate in a two-week master class with Leonard Bernstein at the 1989 Schleswig-Holstein Music Festival. She then studied further with leading international conductors Odaline Martinez, Eric Ericson, Klaus-Peter Seibel, Richard Schumacher and Joshard Daus.
From 1989 to 1991 she specialised in historically informed Baroque and Classical interpretation, working particularly with the Viennese Baroque orchestra, Wiener Akademie, in operas, symphonies and oratorios of Mozart and Handel. Between 1991 and 1993 Rita was Musical Director at the principal church in Hamburg, St Jacob's (a post formerly held by Telemann), and of the Verdi Orchestra, Hamburg.
She was Associate Principal Conductor on the world concert tours of the British National Youth Choir in 1996 and 1999, performing in America, Asia, South Africa, Australia and New Zealand.
Amongst others, Rita has conducted the Hamburg Symphony Orchestra, the Philharmonic Orchestras of Lübeck and Schwerin and the Neue Philharmonie Westfalen (Germany), the Tallinn (Estonia) and Riga (Latvia) Symphony Orchestras, and the National Symphony and the Durban Philharmonic Orchestra in South Africa.
In New Zealand she has directed the Christchurch Symphony Orchestra, the Vector Orchestra and Dunedin Sinfonia, and in Australia, the Queensland Orchestra, the Monash University Orchestra, the Willoughby and Darwin Symphony Orchestras, Camerata Queensland and the Suncoast Sinfonia.
Rita is known for the high standard of her performances and several of her oratorio concerts, involving some of Australasia's finest singers (notably Simon O'Neill, Dame Malvina Major, Martin Snell, Henry Choo, Patricia Wright, David Hamilton, Shaun Dixon, Barry Mora and Rodney McCann), have been broadcast by Radio Concert (NZ).
Since 1994 Rita has been Musical Director of Bach Musica NZ, New Zealand's leading combined orchestral and choral ensemble.
Other Musical Director positions included the Opus Chamber Orchestra from 2001 to 2004 and the NZ Pops Orchestra from 2012 to 2018. She also performs with her baroque ensemble Hausmusik NZ.
In October 2019 Rita was became a finalist in the Arts & Culture section of Women of Influence. As well as conducting orchestras and choirs, Rita is sought after for her highly acclaimed international Conducting and Singing workshops, and in her spare time also works as a professional Level 2 Tennis Coach.
In November 2022 Rita and her husband John moved to Motueka on the South Island.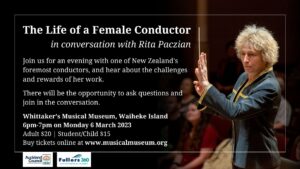 With thanks to our sponsors for their generosity.