We are thrilled to welcome back NZTrio for our November Live@Five. Their 2023 series Homeland is in three parts and from November they will perform Homeland 3: Dumky
Homeland 3: Dumky
Prepare to be swept away by the heartfelt melodies of Novak's dramatic one-movement ballade, written when he was simultaneously gazing back in time to traditional Czech folk melodies, yet also looking ahead to tonal modernism. Swiss-American composer Ernest Bloch's evocative Three Nocturnes showcase his Jewish heritage with staggering impressionistic beauty, before Frank Martin takes us on a rambunctious journey through popular Irish melodies that will be sure to awaken your inner dancer. We return to the sounds of Aotearoa with an exciting new work by celebrated NZ composer Ross Harris, before we embark upon the joy and nostalgia of Dvorak's famous "Dumky" Trio, overflowing with a wealth of village songs and Czech country dances.
NZTrio
Described as a "national treasure" and "New Zealand's most indispensable ensemble" (William Dart, NZ Herald), NZTrio is renowned for its eclectic repertoire, outstanding talent and warm kiwi stage presence. Any preconceptions of classical music being stuffy or intimidating are smashed by edgy repertoire, venue ambiance, and post-concert manaakitanga. Bringing together three incredibly accomplished artists: Amalia Hall (violin), Ashley Brown (cello) and Somi Kim (piano), every NZTrio performance powerfully reaffirms the importance and cathartic nature of a live musical experience in today's digital world. Expect to be affected.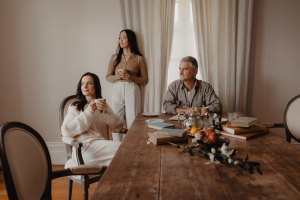 With thanks to our Patrons, Sponsors, Donors, Supporters & Volunteers who make these concerts possible