Jade String Quartet are our final Live @ Five for 2023.  The original group formed 20 years ago in 2003, and present musicians Miranda Adams (violin), Liu-Yi Retallick (violin), Robert Ashworth (viola), and James Yoo (cello) are just as committed to the performance of great music.
PROGRAMME
Mozart Quartet in D major K575
Dvořák Quartet in E flat major Opus 51
Beethoven Quartet in E minor Opus 59/3 (Rasoumovsky)
Miranda Adams has been Assistant Concertmaster with the Auckland Philharmonia Orchestra since 1994, and has performed concertos with the Auckland Philharmonia Orchestra, New Zealand Symphony Orchestra (1986 finalist in the TVNZ Young Musicians Competition) , Manukau Symphony, St Matthews in the City and many Regional NZ orchestras. She studied violin with Harvey Strang, Pamela Bryce, Elsa Jensen, Charmian Gadd, and also Karin Adam (in Vienna 2014 through an APO study grant).
Liu-Yi Retallick took up her current post in 2016 as Associate Concertmaster with the Auckland Philharmonia Orchestra.  Prior to that she lived in Malaysia, freelancing with both the Malaysian Philharmonic Orchestra and Singapore Symphony Orchestra on a regular basis.  She has also worked and studied with some of the world's most notable artists, including Vladimir Ashkenazy, James Judd, Kees Bakels, John Georgiadis, Eiji Oue, Ning Feng, Vadim Repin, Robert Spano and Manuel Nawri.
Robert Ash­worth is Prin­ci­pal viola for the Auck­land Phil­har­mo­nia Orches­tra.  He has been guest-​principal viola for the Sydney Symphony, Mel­bourne Sym­phony, New Zealand Sym­phony Orches­tra and the Aus­tralian Opera and Bal­let Orches­tra, as well as assistant-​principal for the Cal­gary Phil­har­monic Orches­tra. He is the vio­list for the Jade String Quar­tet in Auck­land, and also plays with the Australian World Orchestra.  Robert was awarded a Tui for Best Classical Artist in 2022, and is a twice recip­i­ent of the Canada Coun­cil for the Arts Award for Emerg­ing Artists. He has per­formed with var­i­ous groups at inter­na­tional cham­ber music fes­ti­vals in Europe, North Amer­ica, and Japan. He has had the hon­our to study with vio­lists Thomas Riebl and Veronika Hagen at the Uni­ver­si­taet Mozar­teum in Salzburg, Aus­tria and with Ger­ald Stan­ick at the Uni­ver­sity of British Colum­bia in Van­cou­ver, Canada.  Robert plays a Canadian "cut-away" viola made in 1995 by John Newton.

James Yoo was born in 1988 in South Korea and he began playing the cello at the age of 7. He studied at the Sydney Conservatorium, the Musikhochschule in Cologne, and The University of Waikato. Former teachers include Maria Kliegel, James Tennant, Susan Blake and Thomas Tsai.  James was a member of the Auckland Philharmonia Orchestra for 4 years.  He currently teaches cello and chamber music at the University of Auckland.  As an educator, James is well known in the Auckland musical community, both as a cello and chamber music teacher. He is particularly interested in analysing and giving lecture recitals on technical aspects of cello playing, including Etudes and Caprices by David Popper and Carlo Alfredo Piatti.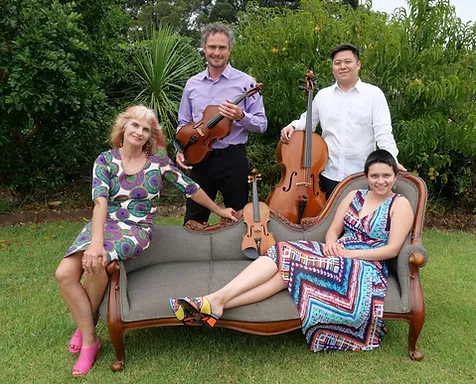 With thanks to our Patrons, Sponsors, Donors, Supporters & Volunteers who make these concerts possible